HARRISON CEMETERY
---
From Trenton toward Bradford on Hwy. 105, go 2.1 miles and turn left on Neil Kinsey Road (at Salem Baptist Church sign). Go 0.6 miles and turn left on Skiff Barton Road (gravel). The cemetery is 0.8 miles on the right just past the intersection of another gravel road.
The cemetery sits on a hill at the edge of large wheat fields. It is well tended and easily accessible.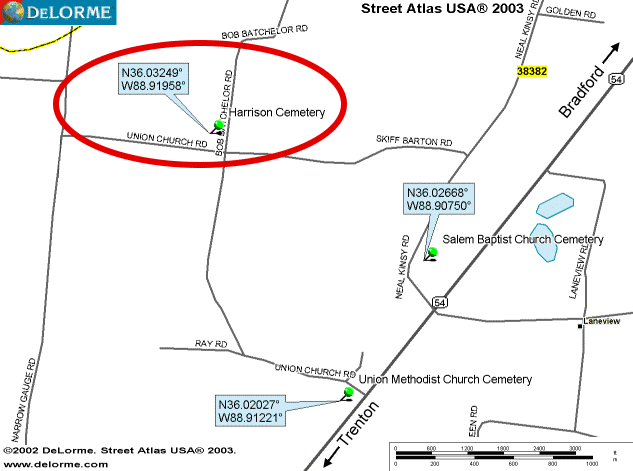 ---
HARRISON, L. D. (husband) b. 02/10/1843 d. 11/24/1901
M. D. (wife) b. 05/07/1844 d. ???
Thomas F. (son) b. 10/01/1881 d. 08/29/1902
JONES, Mary E. b. 01/27/1895 d. 01/29/1895
Daughter of J. M. and R. E. Jones
HARRISON, Rebecca R. b. 10/27/1838 d. 04/08/1888
Daughter of Baker and Nancy Harrison
HARRISON, T. W. b. 04/29/1853 d. 08/24/1876
RUSH, Alice b. 03/11/1862 d. 06/25/1891
HARRISON, Elisha b.11/18/1835 d. 05/01/1882
Killed by H. J. Markham Click here for the story from the Milan exchange 1882
One pile of broken markers- illegible.
HARRISON, Orda L. b. 08/11/1884 d. 09/12/1884
Son of Z. C. and Lizzie Harrison
PIPKIN, Gilbert b. 09/07/1920 d. 02/11/1979
Sally b. 09/12/1919 d. ________
HARRISON, Oren Baker b. 03/18/1896 d. 08/19/1898
HARRISON, O. H. b. 08/17/1848 d. 02/11/1907
HARRISON, Martha J. (Wife of O. H.) b. 1863 d. 1920
HARRISON, J. P. b. 1830 d. 03/16/1861
Son of B. and N. Harrison-Aged 30 years- 3 months- 2 days
HARRISON, Baker b. 01/01/1806 d. 10/09/1863
Husband of Nancy Harrison
HARRISON, Nancy b. 11/18/1810 d. 06/06/1891
Wife of B. Harrison
T. M. H.
R. B. H.
GRIST, William b. ??? d. 11/08/1866
Tombstone photos: 1, 2, 3
Husband of Elizabeth Grist-Aged 66 years- 5 months.
(Marker broken across birthdate- illegible)
PIPKIN, Dorthy Sue b. Feb 24, 1943 d. Apr 6, 2002
Wife of Thomas b. Sept 12, 1947
---
Transcribed by Joy and Richard Tucker- April 24, 1999.

---