Welcome to Somervell County TXGenWeb
Established: March 13, 1875
Parent County: Hood, Johnson
County Seat: Glen Rose
TXGenWeb County Coordinator: Vicki Shaffer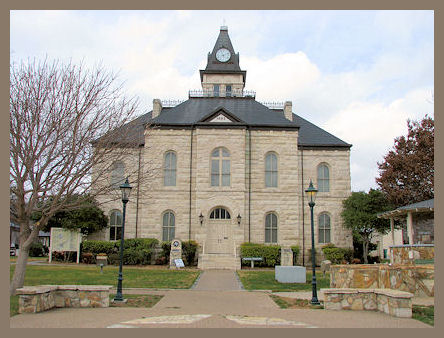 Photo by Vicki Shaffer 2009
Charles Barnard had a trading post and grist mill on the Paluxy River in the 1860's called Barnard's Mill.
As the community came into the 1870's this trading center for Indians, buffalo hunters, and early pioneers began to fade, so Barnard sold his business to Major T. C. Jordan about 1871. From this property Jordan founded the present site of Glen Rose, dividing it into blocks and lots with streets. He donated the public square and started the building of a courthouse after the county was established in 1875.
The county was named for Alexander Somervell. commander of the Somervell Expedition.

Courthouse photos and History
County History
Census 1900 Added!
Obituaries
Towns & Communities
Families
Military & War
Cemeteries
Genealogy Societies
Old Photos
Marriages
Maps
Surnames
TXGenWeb Links

Vital Records

Murders in North Texas (a book of stories of murders 1892-1927)
Please send any Somervell records you might have to Vicki

New additions are appreciated so much!
Submitters retain all copyright!
Dinosaur Valley State Park


Glen Rose, TX
Fort Tours Map for Somervell Co. TX

If you're interested in adopting a TXGenWeb County, please see this page:
Orphan Counties of TXGenWeb

All TXGenWeb Counties Alphabetized
TXGenWeb County Index
Shirley Cullum
TXGenWeb State Coordinator
There have been
visitors to this site since Sept. 2007
Website Hit Counters
V
isit some TN counties: Gibson Co. TN & Shelby Co. TN
Last updated

| HOME | CENSUS | CEMETERIES | MILITARY | OBITUARIES | TOWNS | PHOTOS | SURNAMES | VITALS | MAPS |