David Crockett


1786-1836

David Crockett, one of the most colorful legends of all time, earned his way in life as a cattle driver, farmer, pioneer, patriot, soldier, trapper, explorer, state legislator, congressman and finally as a Texas martyr. He was a tall tale spinner making him one of the most charismatic men of his era. His common sense philosophy adopted the motto, "Be always sure you are right, then go ahead."

He was born on August 17, 1786 in a small log cabin near the junction of Limestone Creek and the Nolichucky River in East Tennessee. He was a descendant of French Huguenot ancestors who migrated to the colonies from Ireland. The name Crockett had been De Crocketagne and the progenitor had been second in command of the Home Guard for Louis, King of France. During the American Revolution, his father John and uncles fought in the Battle of King's Mountain.

He left home at the age of 12, returning when he was 15 years old, and worked off the debts of his father. It was at this time he became known as a crack shot. Finally, from wages he earned, he bought his own gun, "Betsy", a horse and new clothes.

At the age of 20, he married Polly Finlay, who gave him a daughter, Margaret "Polly," and two sons, William Finlay and John Wesley Crockett. In 1811, he built a cabin on Beans Creek in Franklin County, Tennessee, which he named, "Kentuck" and this remained the Crockett homestead until the close of the War of 1812.

He served as a spy under Andrew Jackson in the Creek Indian War, January 21, 1814, taking part in the Battle of Fort Strothers.

Later between September 1814 and March 1815, David Crockett served as a sergeant under Major William Russell. His unit served in the battle of November 7, 1814, capturing Pensacola. He remained in the Pensacola/Mobil region under Major Uriah Blue as part of the rear guard, protecting Andrew Jackson in New Orleans.

Polly, his wife, died in 1815 soon after his return from the War. "Death entered my humble cottage and tore from my children an affectionate and good mother, and from me a tender and loving wife," is from his autobiography, entitled A narrative of the life of David Crockett of the State of Tennessee, published in 1834.

He later married the widow Elizabeth Patton. Rebecca Elvira, Matilda, and Robert Patton Crockett were the children born to this union.

By 1817, the family moved to Lawrence County, Tennessee, and his political career began as first magistrate, then Justice of the Peace, and as the first Mayor of Lawrenceburg. He became a regimental colonel in the militia and twice won a seat in the state legislature (1821 and '23). He relocated again in 1822 to Carroll County, Tennessee, where he was elected three terms a United States Congressman in 1827, '29 and '33).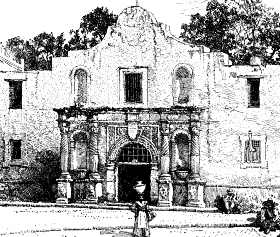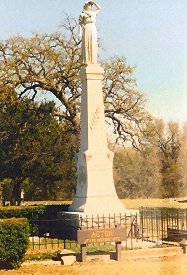 David Crockett lost the election for congress in 1836 by a narrow majority, through "trickery" by his opponents. Disgusted and disappointed, he answered the call for volunteers to help fight for Texas independence. David Crockett died on March 6, 1836 in defense of the Alamo. His name lives on in the annuals of Texas history as a martyr. His widow Elizabeth Crockett settled in what is now Hood County, Texas in 1852-53 with her son Robert Crockett. She is buried in the Acton State Park in Hood County.



Rebecca Crockett Monument
Acton Cemetery, Hood Co. TX

For more reading about the life of David Crockett:
If you are interested in joining this chapter please
contact Mary Alice Councill
Web hyperlinks to non-USD1812 sites are not the responsibility of the NSUSD1812,
the state organizations, or individual USD1812 chapters.
Contact Vicki Shaffer for problems with this website.